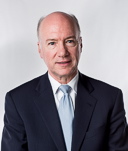 Paul Simon, the founder of Business Mediation Network, has combined law and business throughout his career.  Paul is a business executive who has started and grown companies, prepared business plans, submitted budgets, raised capital, made payroll and managed employees.  He has spent over 20 years inside both public and private companies with general managerial responsibilities as part of the executive team.
Paul is also a lawyer who has tried jury and non-jury cases to verdict, presented state and federal appellate arguments, negotiated and closed numerous corporate transactions and has served as General Counsel with responsibility for managing litigation and outside counsel.
Paul received his law degree from Northwestern University School of Law in 1977 where he was Note and Comment Editor of the Northwestern University Law Review.  He earned a bachelor's degree from the University of Notre Dame in 1974.  Paul completed Mediation Skills Training at Northwestern University School of Continuing Studies.  He is a civil mediator for trial courts in the State of Illinois and is a FINRA Dispute Resolution Arbitrator.
Following a judicial clerkship for Judge Latham Castle of the US Court of Appeals for the Seventh Circuit, Paul Simon practiced commercial law for over 11 years in Chicago.  While in private practice, Paul spent seven years primarily as a litigation attorney with large law firms.  Paul then formed his own firm representing closely held businesses.  As a legal entrepreneur working directly with owners, managers and investors, Paul not only tried cases and argued appeals but also handled a variety of corporate issues involving contracts, partnerships, shareholder rights, mergers and acquisitions, investments, employment and non-competition agreements, loan agreements, insurance coverage, professional liability, real estate development, securities, municipal regulations and employment discrimination.
Paul left full-time law practice to become Vice President and General Counsel of Universal Outdoor Inc.  Over the next eight years, Paul served as both in-house lawyer and an operational executive while Universal Outdoor grew to one of the largest outdoor advertising companies in the country.  After the merger of Universal Outdoor with a national media company, Paul developed several new companies working with private investment groups and private equity funds.  During this time, Paul provided legal and management services to companies involved in commercial real estate, digital media, advertising, professional services, sales and distribution, consumer products, insurance and financial services.
Paul has investigated and managed of a wide range of disputes involving employees, executive separation and compensation, noncompetition agreements, government regulations, partnerships, joint ventures, real estate, banking, accounting, shareholder matters, property and health insurance, mergers and acquisitions, sales and distribution, technology, intellectual property and contracts of all types. He has also served as an expert witness on asset valuation in eminent domain litigation.
Paul is a licensed attorney in Illinois and Wisconsin (WI inactive) and has been admitted to practice before the US Supreme Court, the US Courts of Appeal for the 7th and 9th Circuits, the US District Courts for the Northern District of Illinois, the Eastern District of Michigan and the District of Hawaii.  He has appeared pro hac vice in state and federal courts in Arkansas, California, Florida, Indiana, Louisiana, New York, North Carolina, Tennessee, Texas and West Virginia.  He is a member of the Illinois State Bar Association (Alternative Dispute Resolution Section) and the State Bar of Wisconsin.